"In early 1982, it was released in a convertible version, bringing to the market the first factory-built open-topped domestic vehicle since the 1976 Cadillac Eldorado."
https://en.wikipedia.org/wiki/Chrysler_LeBaron
Convertible Woodie: 1983 Chrysler LeBaron Town & Country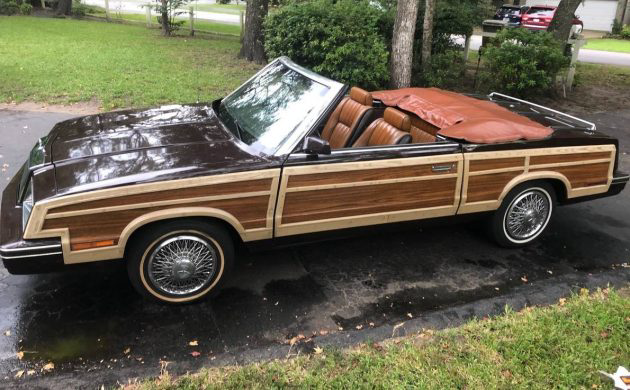 Remember the movie Planes, Trains & Automobiles? One of these cars was in it. Also, one was part of a George Costanza running gag on Seinfeld. The 1980s Chrysler LeBaron was a K-car derivative, and not only did they make a "Woodie" station wagon, but Lee Iacocca's boys also came up with a Woodie convertible. This 1983 LeBaron is one of them, saw only 1,520 copies made that year, and has the upscale Mark Cross trim package. Located in Poquoson, Virginia, this car is available here on craigslist for $8,800 or best serious offer. Kudos to our guy Ikey Heyman for sending this tip our way!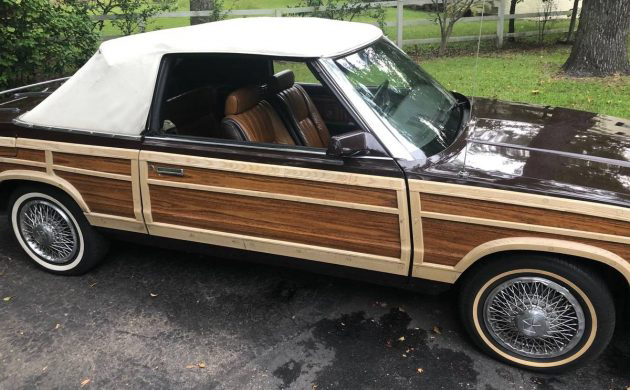 The FWD K-Car is credited with being the first automobile that saved Chrysler Corp. in the 1980s (the other was the minivan). While it's not as fondly remembered as Lee's first sales bonanza (the Ford Mustang), it resulted in 3.5 million reproductions between 1981-89. They came in several varieties and body styles and would even be used in the taxicab trade. Dodge had the Aries, Plymouth had the Reliant and Chrysler had the LeBaron, the fanciest of the species. In 1983, Chrysler built 77,000 LeBaron's as coupes, sedans, station wagons and convertibles. Of these, 11,000 were Town & Country (Woodie) wagons and just 1,500 were Town & Country convertibles (also Woodie), so the seller's car falls into limited production territory. Thanks, Chrysler K Car, for the K-Car history lesson.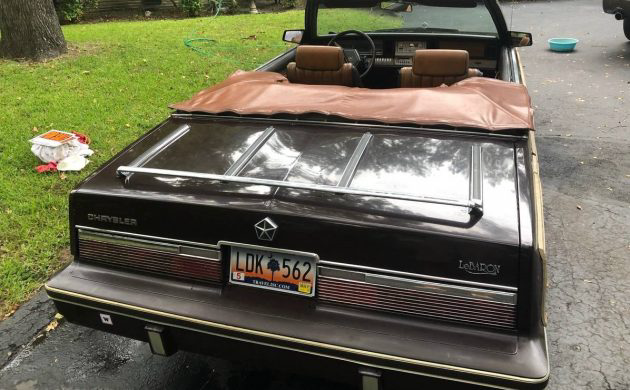 This 1983 LeBaron is a two-owner car that is said to have traveled just 23,500 miles in its 37 years. Until 2014, it was a Texas car, then it went to South Carolina where it acquired the South Carolina license plates it currently wears and is now for sale in Virginia. The body looks straight and solid with no signs of rust, and the fake woodgrain siding looks up to par. That's a key statement because rehabbing or replacing that material can't be easy or inexpensive. The dark brown paint is nice and shiny and matches well with the leather interior colors. The convertible top boot is beautiful, but somehow the color is off compared to the seats, so I'm guessing this is a replacement and not the one that came with the car.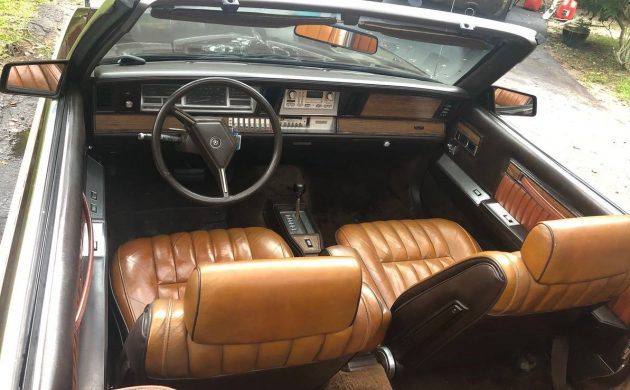 The seller's car was decked out with the optional "Mark Cross" two-tone leather interior with the leather maker's logos prominently affixed. It also features unique door panel inserts with those same badges. The car was well equipped from the factory with just about every convenience you can imagine. Everything is power this and that, including the top. The wire wheel covers add an additional touch of class to a car that already has tons of it. It even has a trunk rack just like the one where Del Griffith mounted his shower curtain rings travel case to in the movie with Steve Martin (one of my personal favorites). Best line of the movie? "oh, that'll buff right out."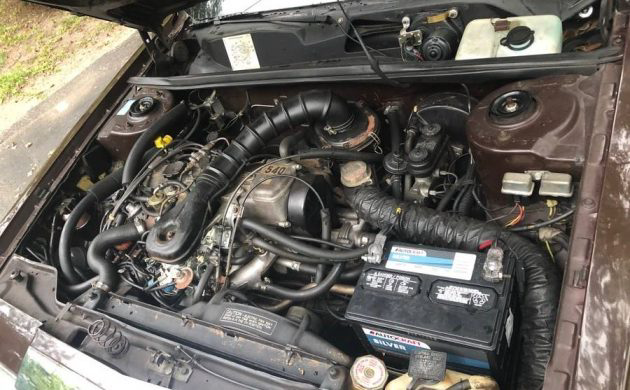 Mechanically, the car has Mitsubishi's 2.6-liter "Silent Shaft" engine, paired with a 3-speed automatic transmission. As a sign of the 1983's version of the future, the car is equipped with Chrysler's Electronic Voice Alert System, a computerized voice that warned drivers about various conditions and used phrases like "a door is ajar" or "your engine oil pressure is low". I wonder if its nickname is Alexa. This clearly is a head-turning kind of car given all the excesses that were built into the styling. You're not likely to run into another one of these at Cars & Coffee. They don't turn up for sale that often. Of the small handful currently advertised on the web, none of the Woodies are offered for more than $10,000. So, the seller's asking price seems to be about right.
https://barnfinds.com/convertible-woodie-1983-chrysler-lebaron-town-and-country/?fbclid=IwAR1F7YMfgooqUxUARektveExEJr1EIwdTz0-aNLVKWeWfGBBrnF-GL8H8fw
Norfolk Craigs list ad:
Classic 1983Chrysler Lebaron "Woody" convertible

-

$8,800

(Poquoson)
Beautiful 2-owner Chrysler LeBaron convertible "Woody" that is a head turning affordable classic with the top of the line Mark Cross trim level and just 23,500 miles!
This car has AT, power brakes, power steering, AC and power top in beautiful condition! It has all of the available options of the day including power seats, windows, locks, cruise control, tilt wire wheel covers and trunk rack. The Mark Cross package is the top of the line model with upgraded Mitsubishi 2.6 Liter "Silent Shaft" engine, mated to a 3-speed automatic transmission. Other options included cornering lamps, automatic speed control, and an AM/FM stereo radio with electronic tuning and cassette player and Voice Command warning system that talks to you – ahead of its time for 1983!

The power convertible top is virtually in new condition, no broken stitching and the Plexiglas rear window is bright and clear. The car has no cracking or stitching problems. The optional "Mark Cross" two tone leather interior is adorned with the leather maker's logos. Featuring unique door panel inserts with "Mark Cross" badges. The leather padded top boot snaps in place when the top is down to enhance the overall beauty of the car.

This is a two owner creampuff car (with Carfax) from TX (original owner had it for 31yrs) and SC with just 23,500 original miles. Every time I drive the car I get thumbs ups and shouts "I love your car," it is a true head turner. This edition is hard to come by and is becoming desirable by collectors. This is your chance to own an inexpensive fun collector convertible that is a pleasure to drive.
$8800 or reasonable offer. Text 757-232-09TWOFIVE. Legacy info available.
1983 chrysler lebaron convertible

condition: excellent
cylinders: 4 cylinders
drive: fwd
fuel: gas
odometer: 23500
paint color: brown
size: mid-size
title status: clean
transmission: automatic
type: convertible

https://norfolk.craigslist.org/cto/d/poquoson-classic-1983chrysler-lebaron/7222733955.html