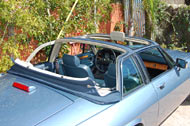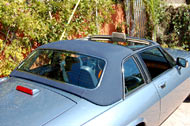 Thanks to THEPOOLEMAN for the link to this ad for a beautiful 1987 XJS-C. This is the famous V-12 Cabriolet, btw. Note the four different roof configurations: the built-in roll bar; the fixed rear windows; the removable 'Targa' top..... starting to seem familiar somehow?
Click on any of the above images for a full-size view
The ne plus ultra in versatility, the XJSC can be configured as a Landaulet convertible, a Targa, or a Coupe. Additionally, the rear folding soft top can be replaced by a fixed roof panel with heated glass window.
If that ad above looks a little familiar, well..... there is a reason it does!
BMW 2002 "Targa' Cabrio
BMW E30 Top Cabriolet (TC2)
BMW E21 Top Cabriolet (TC1)
ALL of these BMW ads were published before this Jaguar was built. So it is pretty clear where Jaguar got the inspiration for their ad. Imitation is indeed the sincerest form of flattery. :)
Here is the link to the full ad. It is really worth checking out.... a very cool car. I love the XJS Cabriolets, both the Baur-type and the open cabrio. A good friend of mine has the open cabrio (circa 1990) in a champagne color that is just drop dead gorgeous.
http://www.californiaclassix.com/archive/87_XJSC_c650.html