Thanks to Vince from The Daily Turismo for
his kind words.

The Daily Turismo* is a
great site that we enjoy every day. Check it out!


Full disclosure: the BMW ad posted below about 'keeping the rain out' is one
in a series of UK BMW ads that run every April Fool's Day in the UK press.
It is an April Fool's joke

that BMW has been running each year on April 1st
for about 30 years.

They are all so well-written, tongue-in-cheek, that they
have fooled many, many people.
So, if you were fooled by the ad, you are in good company, as you will in the
article below. You will notice that I post the ad on my blog without comment.
That is by design. Most Baur owners are in on the joke but, for the uninitiated,
and the unsuspecting...... well, it just contributes to the whole mythology
s

urrounding this unusual-looking and rarely seen vehicle. So, we have a little
fun with that ad, some 30 years
after it
first appeared! :)
Here is The Daily Turismo
article. Enjoy!
Thursday, October 2, 2014
10k: The Full Baur Targa: 1980 BMW 320 E21 Baur TC1
folding soft top in the
back and a targa-style soft roof above the
driver/passenger. The
result is convertible fun
in the sun while
retaining chassis rigidity and safety by keeping an intact B-pillar
roll hoop.
The Baur Targa cars came from a time when BMW didn't
offer the 3 Series in drop top and
the modifications were done by
Karosserie Baur when new,
maintaining a factory BMW
The Baur Targa version of the E21 3 Series uses the same M20
inline-6 cylinder engine
as the standard 3er; in fact the 4500
E21 Baurs all started life as simple 3 Series
before they were
modified. The seller on this one is being a bit optimistic on
the price,
but it isn't like you see these very often and a perfect
one would demand a premium.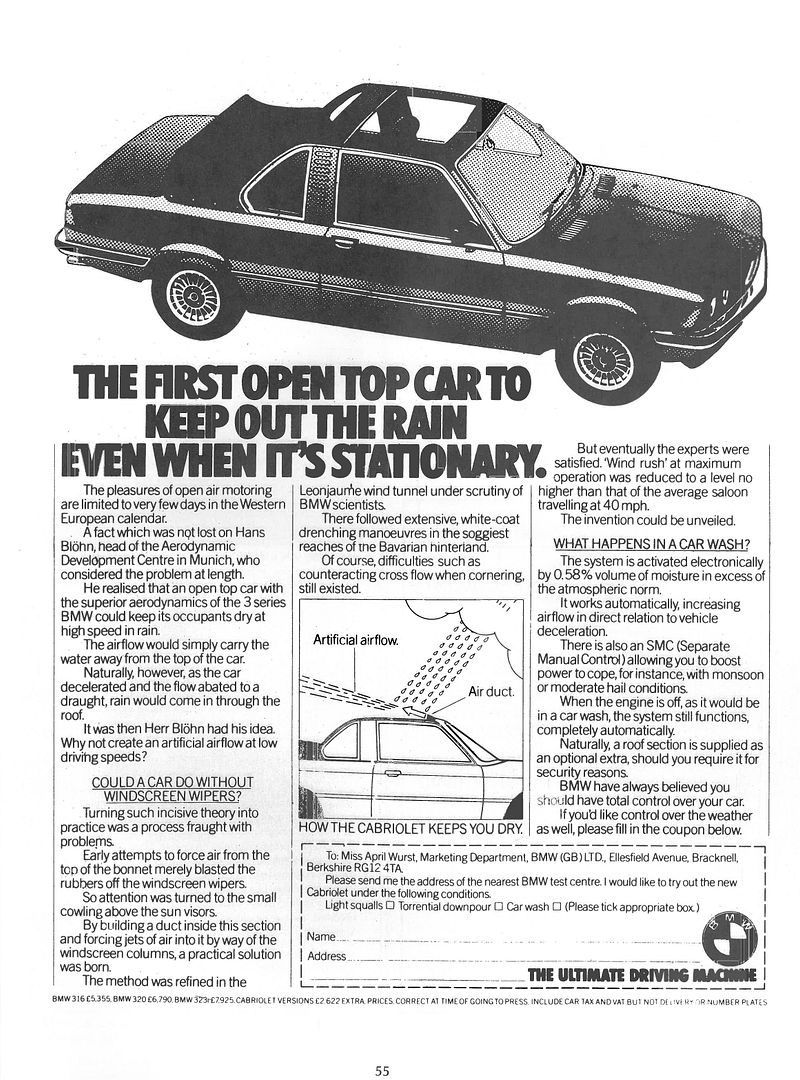 This is a good time as any to admit that we here at the Daily Turismo
fell afoul of a most
loathsome and vile hoax. The hoax of the
open top that keeps rain out even when the car is stationary
...
and really if I'd spent the time to read the little details about
"monsoon
or
moderate hail" and "To Miss April Wurst" more carefully...I probably
would have been more
cheeky about posting
this
! Thankfully, I was shown
into the light by Tom from
Baurspotting
who
sent a nice email about
this very subject and now we can all have a good laugh together.
More BMW April Fool's ads:
http://hoaxes.org/af_database/display/category/bmw