I came across this the other day, and it was new to me. I thought some of you may enjoy learning about it. I believe those are the only two E25 Turbo Prototypes ever built.
So what is it doing here in Baurspotting? Well, it has certain styling cues that remind me of the M1 and even the 850. And you may recall that most of the M1s were built b
y Baur, based on a design by Giugiaro, after Lamborghini was financially unable to complete it.
http://en.wikipedia.org/wiki/BMW_M1
http://en.wikipedia.org/wiki/Karosserie_Baur
Here is a pic of the M1 for comparison:
See what I mean?
http://www.lotusespritturbo.com/BMW_Turbo.htm
The E25 BMW TURBO prototype was built as a celebration for the 1972 Summer Olympics in Munich. (See below for another car BMW introduced for the 1972 Olympics! Hint: it didn't use gasoline.) For this occasion, renowned designer Paul Bracq created an innovative design for a BMW automobile, the BMW Turbo. The car had a 1,990cc BMW 4 cylinder engine, with a Turbo fitted. The car weighed just 980kg and featured gullwing doors and an ergonomically considered interior. Safety was another consideration in it's design, with an integrated passenger rollcage, crash safe deformable structures front and rear of the car and a collapsable steering column, thanks to 3 universal joints. The BMW Turbo was built by Michelotti in Turin and only 2 cars were ever built.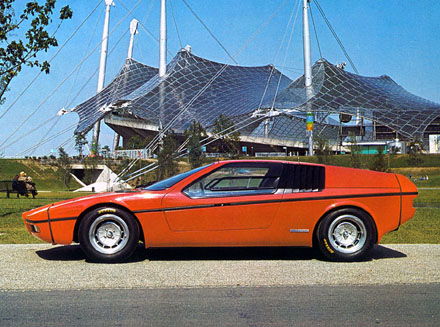 Click on image to enlarge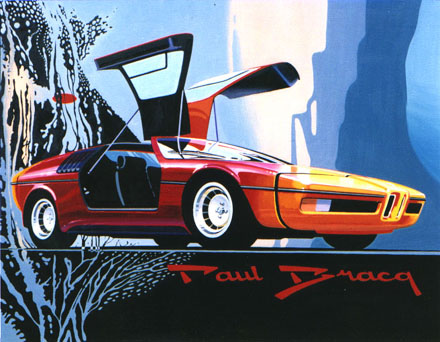 1972

BMW

Turbo Prototype

E25 series

bodywork
Body type
fixed-head coupé
Number of doors
2
Designer
Paul Bracq

dimensions & weights
Wheelbase
2400 mm
94.5 in
Front track
1550 mm
61 in
Rear track
1530 mm
60.2 in
Length
4144 mm
163.1 in
Width
1880 mm
74 in
Height
1100 mm
43.3 in
length:wheelbase ratio
1.73
Ground clearance
Kerb weight
980 kg
2161 lb
Weight distribution
Fuel tank capacity

aerodynamics
Drag coefficient
Frontal area
CdA

engine
Engine manufacturer
BMW
Engine code
Number of cylinders
Straight 4
Capacity
2 litre
1991 cc
(121.498 cu in)
Bore × Stroke
89 mm × 80 mm
3.5 in × 3.15 in
Bore/stroke ratio
1.11
Valve gear
SOHC
2 valves per cylinder
8 Total valves
max power
279.8 PS (276 bhp) (205.8 kW)
Specific output
138.6 bhp/litre
2.27 bhp/cu in
max torque
238 Nm (176 ft·lb) (24.3 kgm)
Specific torque
119.54 Nm/litre
Engine construction
sump
Wet sumped
compression ratio
6.8:1
Fuel system
Kugelfischer fuel injection
brake mean effective pressure
1502.2 kPa (217.9 psi)
Maximum RPM
Number of crankshaft bearings
Engine coolant
Water
Cylinder volume
497.75
Aspiration
Turbo
Compressor
Intercooler
N
Catalyser
N

performance

0-80km/h
0-60mph
0-100km/h
6.60 s
0-100mph
15.70 s
Standing quarter-mile
Standing kilometre
Maximum speed
250 km/h (155 mph)
Power-to-weight ratio
281.63 bhp/ton

fuel consumption
Fuel consumption
Carbon dioxide emissions
Carfolio Calculated CO2 ?

chassis
Engine position
mid
transverse
Drive wheels
rear wheel drive
Steering
rack & pinion
Number of turns lock-to-lock
Turining circle
Front suspension
I.MS.TB.
Rear suspension
Wheel size front
Wheel size rear
Tyres front
Tyres rear
Brakes F/R
Front brake diameter
Rear brake diamteter
Gearbox
4 speed manual
Top gear ratio
Final drive ratio

general
Carfolio.com ID
96294
Number made
2
Model code
Model family
E25
RAC rating
19.6
Insurance classification
No information available
Tax band
No information available
http://www.carfolio.com/specifications/models/car/?car=96294
Here is an other car that BMW introduced especially for the 1972 Olympics in Munich:
Electric Drive BMW in 1972!
Advertisement poster "Schrittmacher" BMW 1602 with electric drive at the Olympic Games 1972
For more about electric BMWs over the years, check this out:
http://baurspotting.blogspot.com/2011/09/many-thanks-to-bimmerforums-member-tom.html
NOTE: If you liked this prototype, you may also like this one: